Read Time:
11 Minute, 30 Second
Content is king when it comes to marketing. But what happens when your content has run its course? It's time for you to conduct a content audit.
Content audits can be daunting and overwhelming, which is why I'm here to help you every step of the way. After all, I've been there and done that. Whether you're a digital marketer, SEO expert, or content writer, this post will provide you with a step-by-step guide on how to ace your next content audit.
We'll start from the basics such as what a content audit is and why it's important. Then I'll walk you through the process of conducting a content audit, from planning to execution. By the end, you'll have all the tools and techniques necessary to carry out effective audits in no time. Read this 8 Content Marketing Metrics You Should Know About It.
What is a Content Audit?
As we're in the digital world, It's important to understand what a content audit is and how to conduct one. In a nutshell, a content audit is an analysis of your existing content to make sure it's up to date and still relevant. It helps you evaluate whether there are any gaps in your current strategy.
A content audit consists of analyzing your website's pages and other assets (like blog posts and social media posts) against certain factors such as:
Quality of content
Frequency of updates
Target customer audience
Use of keywords
Search engine optimization (SEO)
User experience (UX)
Analytics
By doing this, you can assess the performance of your current content, identify any problems with it, and determine how you can improve it for better performance. A successful content audit can help boost traffic to your website and increase engagement with your audience.
See also: Five Important Search Engine Optimization (SEO) Ranking Factors
Why Do a Content Audit?
As a digital marketer, content audits are essential for ensuring your online presence is as effective and efficient as possible. It's no silver bullet, but it will help you get the most out of your website.
Content audits allow you to take a step back from your day-to-day tasks and take a look at how your content is performing. When done correctly, you'll be able to pinpoint the areas that need improvement and identify opportunities for optimization.
Most importantly, content audits will ensure that you're giving users the best possible experience when they visit your website or blog. You'll be able to assess how well you're meeting user needs by looking at page speed, length of text, readability and other related factors.
In addition to improving user experience, content audits can also make sure that your SEO strategy is on track. As part of the audit process, it's important to review keyword targeting and on-page optimization in order to maximize search visibility.
By conducting regular content audits, at least once every six months you can ensure that your website remains up-to-date and relevant to both search engines and users alike.
Here are a few reasons why a content audit is important:
To Improve Search Engine Rankings
Search engines are constantly updating their algorithms to provide users with the best possible search results. One of the ways they do this is by prioritizing websites with fresh, relevant, and engaging content. A content audit helps you identify outdated or irrelevant content on your website, which can be updated or removed to improve your search engine rankings.
To Optimize User Experience
User experience is a critical factor in driving traffic and engagement to your website. A content audit can help you identify content that is not user-friendly, such as poor-quality images or hard-to-read text. By improving user experience, you can increase the time users spend on your website and reduce bounce rates.
To Identify Opportunities for Repurposing Content
Repurposing content is an effective way to make the most out of your existing content. A content audit can help you identify high-performing content that can be repurposed into new formats such as videos, infographics, or social media posts.
To Enhance Brand Identity
Your content is a representation of your brand identity. Outdated or irrelevant content can harm your brand image and credibility. A content audit helps you identify content that is not aligned with your brand values or messaging and allows you to make changes accordingly.
5. Save Time and Money
By removing low-quality or outdated content, you can save time and money on content creation and maintenance. You'll be able to focus your resources on creating high-quality, relevant content that drives results.
Now that we've established the importance of a content audit let's dive into the steps involved in running one.
Setting Objectives and Identifying Goals
Before you dive into your content audit, the first step is to set objectives and identify the goals. This is the only way to ensure that the decisions you make throughout the audit are aligned with your overarching strategy.
Some questions you might want to ask yourself at this stage include:
What would success look like?
What metrics do I need to track?
What are my top priorities for this audit?
Are there any gaps in my content that need to be filled?
Do I have goals for increasing organic search traffic, reducing bounce rate or increasing conversions?
How can I measure and track performance over time?
Which content types do I need to evaluate more closely?
By answering these questions, you'll have a better idea of what needs to be evaluated and how you'll measure success from your content audit efforts. This will also help you prioritize tasks and decide which metrics or analytics are most important for tracking progress over time so that you can see if changes in your content are working or not.
See also: 2023 SEO Trend Predictions
Collecting Your Content Data
Now it's time to collect all of the data associated with your content. You'll need to look at your analytics and gather information related to page visits, impressions, time on page, and more. Additionally, you should record details like the author of each piece and when it was published.
You can use a variety of tools for this step, like Google Analytics for traffic stats and WordPress for post dates. Here are a few ideas on how to make this process easier:
Using a spreadsheet helps you keep all of the details organized in one place. You can create columns with specific data points like pageviews and average session duration.
There are plenty of tools available that can help you collect and organize your content data quickly. Most third-party analytics programs can pull in relevant data from multiple sources so that you have everything you need in one place.
Make sure to note any unexpected findings or insights as you're collecting your data, it will save you time later on when you start organizing it into more meaningful reports.
Analyzing Your Content Data
Once you've gathered all of your data, it's time to start analyzing it. This is my favorite part of the content audit process you get to truly dig deep into the performance and purpose of each piece of content.
The goal of the analysis is to identify any trends or patterns in your content so that you can come up with insights on what works and what doesn't. Here are a few things to consider as you analyze the data:
How well are your pages performing? Are there any low-performing pages that you can delete or improve? Are there any pages with high engagement or conversions that could be further optimized?
Are there any old, outdated pages that need to be updated or removed? Could any content be made more relevant by using recent data? Do any posts need additional updates, tweaks, or improvements?
Does all of your content share a similar esthetic and design style? Are certain sections difficult to navigate? Could things like images, colors, fonts, and other design elements be improved for better engagement and readability?
By taking the time to analyze this data, you'll gain valuable insights that can help inform your future content creation, promotion, optimization and possibly even redesigns.
See also: Get Your Website Noticed With These Powerful SEO Hacks
Taking Actions on Your Results
Once you have all the data and analysis you need, it's time to take action. Your content audit should be providing answers to questions like: which pieces of content are working best and why? What needs to be improved in terms of quality, coverage, length, or other factors?
The main goal is to make sure your content is meeting the needs of your users and providing real value. Don't be too quick to retire or delete any pieces if they're still performing—just because something is outdated doesn't mean it should go. Always consider revising content before deleting it; you should also think about continuing to promote it if people are still finding value in it.
Here are some key areas where content can be improved:
Updating – add more recent facts, statistics, and information; provide new topics for discussion
Revising – revamp the copy and make sure links are working properly; delete redundant words; reformat for better readability
Repurposing – turn a long blog post into an infographic or slideshow; create a guide or e-book from existing blog posts
Optimization – use keywords throughout the piece; review headlines and meta descriptions; revise page titles.
As you're making improvements on your content, don't forget that not every piece has to be perfect right away. Think of them as works-in-progress that may need some refreshes in the future, content such as blogs can always be updated over time as long as they still provide value.
Content Audit Template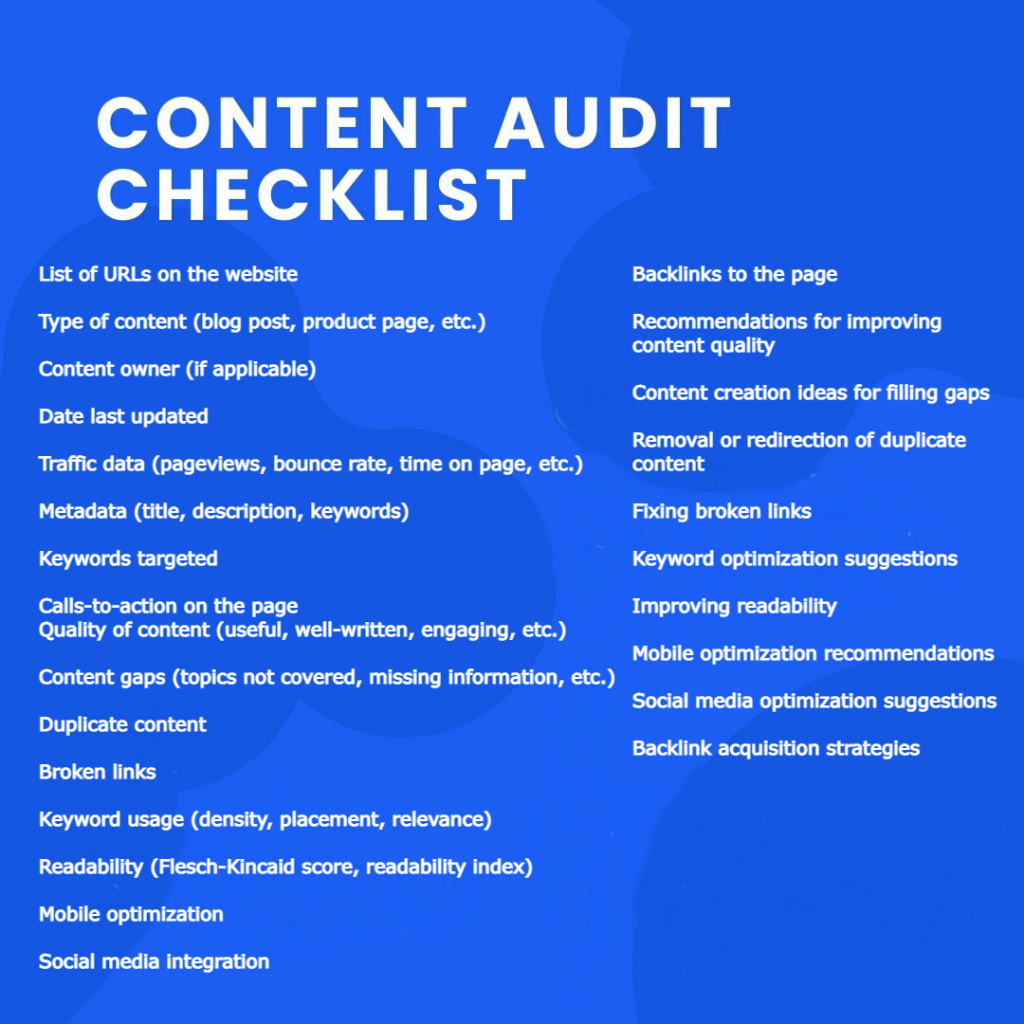 Here's a Content Audit Template that you can use to audit your website's content:
List of URLs on the website
Type of content (blog post, product page, etc.)
Content owner (if applicable)
Date last updated
Traffic data (pageviews, bounce rate, time on page, etc.)
Metadata (title, description, keywords)
Keywords targeted
Calls-to-action on the page
Content analysis:
Quality of content (useful, well-written, engaging, etc.)
Content gaps (topics not covered, missing information, etc.)
Duplicate content
Broken links
Keyword usage (density, placement, relevance)
Readability (Flesch-Kincaid score, readability index)
Mobile optimization
Social media integration
Backlinks to the page
Content optimization:
Recommendations for improving content quality
Content creation ideas for filling gaps
Removal or redirection of duplicate content
Fixing broken links
Keyword optimization suggestions
Improving readability
Mobile optimization recommendations
Social media optimization suggestions
Backlink acquisition strategies
Content Audit Tools
Conducting a content audit is a great way to identify areas for improvement. Here are some of the best tools to help you conduct a thorough content audit: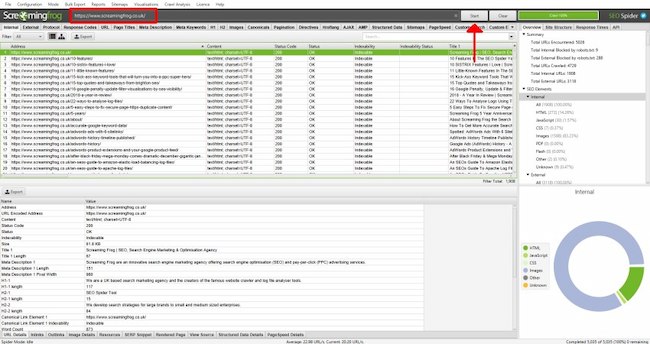 This website crawler is a fantastic tool for auditing up to 500 URLs for free. It categorizes and analyzes your website, making it easier for you to identify areas for improvement.
2. Ahrefs
This tool offers plans starting at $99/month and provides robust keyword research, competitor analysis, and backlink tracking features. It's a great option for tracking your SEO site performance.
3. SEMrush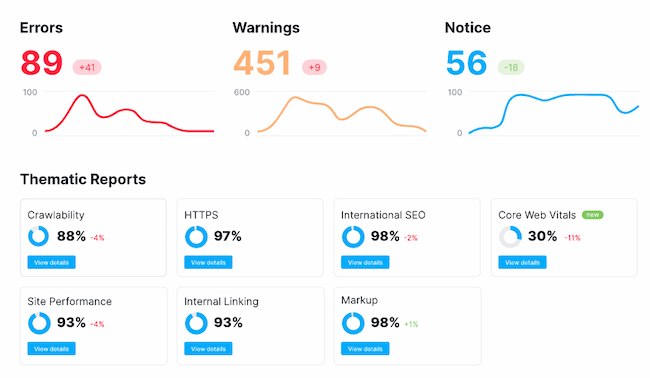 SEMrush offers a free trial, followed by plans ranging from $120-$450/month. It provides a customized report highlighting areas for improvement, and you can connect your Google Analytics account for additional insights.
This free tool lets you track and analyze your website's search data, confirm that each page is indexed, and track URLs for useful data. Its mobile usability issues features are also helpful during a content audit.
This free tool provides valuable information about your website visitors and their behaviors. Note that the data in Google Analytics reports is based on samples, not exact data.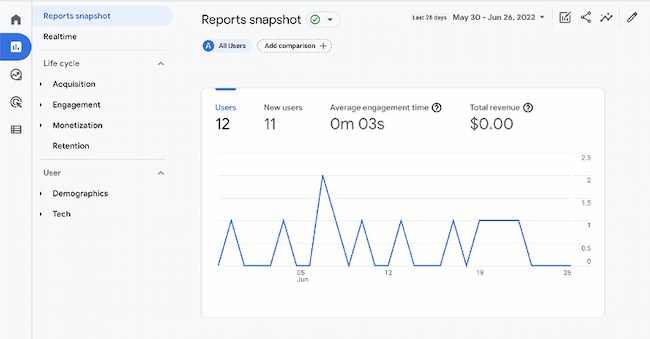 6. WooRank
With plans starting at $80/month, WooRank offers two features for content auditing: SEO monitoring and Site Crawler. These features let you know the performance of your landing pages, and how Google sees and interprets your site's information.
Content Organization Tools
7. Google Sheets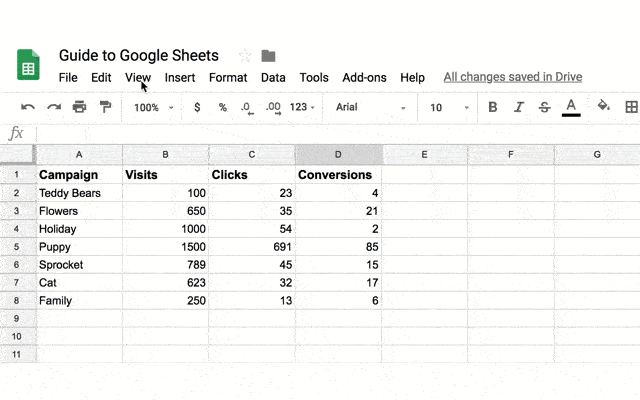 This free online tool is perfect for organizing data points from your content audit, letting team members collaborate and comment, and updating critical metrics.
8. Casted
This tool helps you understand how your podcast content is engaging your audience, and is a great way to make actionable business decisions to drive engagement.
9. Vidyard
This free tool provides visual analytics to audit your video content, essential when trying to show ROI.
Conducting a content audit can help you identify areas for improvement and drive engagement on your website. These tools provide valuable insights and analysis to help you make the most of your SEO efforts.
Conclusion
Conducting a content audit is no small feat. It requires focus, organization, and most of all, time. You can make it easier on yourself by following the steps outlined in this post:
• Set goals and expectations
• Map out existing content
• Review content quality
• Identify gaps and opportunities
• Take action
By taking the time to really analyze what content you have and what you need, you will have a better understanding of how your content may be impacting your SEO and overall site performance. Think of it as a checkup for your website, ensuring it's healthy and up-to-date. A well-organized content audit helps keep your content in line with what your users expect and what search engines want. And that can make a world of difference for your business.