Read Time:
5 Minute, 19 Second
Introduction
Healthcare is one broad service sector that benefits all parts of society. It is widely spread with endless departments. However, even after strict management, some loopholes are left behind that give scammers a chance to induce crimes in the healthcare sections of society.
Recently, the number of scams has been increasing in this sector. This blog focuses on scams related to healthcare, the types of scams in the industry, and how to overcome them. 
Define Health Care Scams:
There is no bookish definition of healthcare scams. It is an unethical activity that occurs with a deceptive intention to get illegal benefits. The action and behavior of scammers in this field are unidentified however, certain ways of the scam have been reported, such as:
Scams happen when fraudsters provide a false representation of products and services.
Using someone else's personal information such as health insurance details and purchasing medicines or commodities based on it.
Copied signatures and medical documents for illicit works within the department.
A team of fraudsters works on separating services to boost payments illegally
Distracting deliveries by changing the address
Showing themselves as a medical expert without the license of the medical care provision.
Entertaining duplicacy for submitting claim forms
Healthcare is a sensitive topic, and scammers are taking advantage of it. Several healthcare benefits are provided to the citizens for resilience, but due to a lack of awareness about the common types of scams, such reckless situations occur.
Types of Healthcare Scams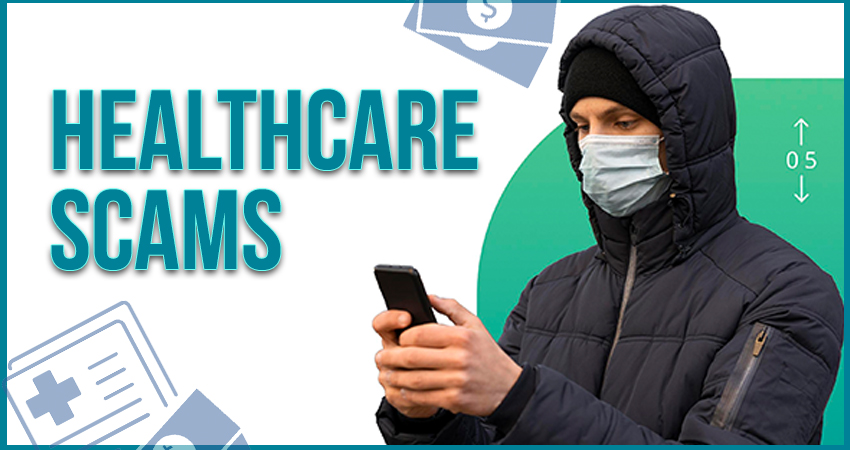 1. Fraud committed by Medical providers 
Healthcare scams often occur and cause tens of billions of losses every year. In-house people such as medical providers, patients, and employees from management are mostly found guilty. Here are the types of fraud commenced by these scammers.
Upcoding means billing for those services that are never rendered or those that are cheaper than the standard prices. It is one of the most popular fraudulent activities operating under the government's nose. As a result, this act makes the government and commoners pay the wrongful price.
Allowing nurses and staff to perform the examination
The public should be aware of this fraud where the patient's sentiment is at stake. Nurses and staff members get access to the doctor's space because the management allows them to do so. Hence, they generate bills equivalent to a doctor's pay.
In fact, they are handling the patients who need to undergo specialized treatment. It not only hinders the system but also enhances the patients' risks. This is like playing with people's lives and sentiments, which the fraudsters barely care about; they do what they aim to do. But, if you have faced such scams, you need to report them before it gets critical. 
2. Charging Medicare and prescriptions 
Healthcare scams are fooling government resources and charging extra out of them. Scammers here are not some masked people, but they are people you are openly surrounded in society, free of masks but still hard to spot. 
Many pharmaceuticals sell medicines and medicare commodities and coverage for in-store discounts to their customers. But, this is a solid legal violation, and the authority can put him under the false claims act.
Unnecessary Medical Services
Sometimes the staff asks you to pay more than the medicare offered for some irrelevant concern. It is counted as a fraudulent activity if they charge you more for a minimal service. It is an income made fraudulently, and hence, it comes under the violation of federal healthcare rules.
For a long time, the healthcare industry has been solely the purest service sector, but nowadays, kickback schemes are superior, and no one is aware of it. Kickback means doctors should not be allowed to take anything extra from their colleagues, healthcare facilities, pharmaceuticals, or medical device manufacturers. They can't receive anything of value, such as gifts, cash, or equity. However, they can talk out of their experience. But, scammers go on and do what they need to do, to bag that extra money.
3. Frauds committed by patients and other individuals
Bogus Marketing: This is a type of marketing where a team of fraudsters meets or calls people asking for their personal information, like health insurance identification numbers, by giving them false hopes. Once the scammers receive the data, they steal their identity for wrong purposes, such as putting acquired personal information on the bill or enrolling the users in a fake benefit plan. 
Identify swapping: Swapping here indicates health insurance or coverage, which can be swapped from person to person. It is unethical, and duping the insurance agency comes with an unbearable cost. 
Impersonating a healthcare professional: Some doctors practice and handle severe cases without a license which is highly risky for patients. Generally, such news comes out easily, but the most credible person starts losing credibility when the rumors spread. 
4. Frauds committed during prescriptions
Forgery: In some healthcare scams, people create and use forged prescriptions in some medical areas. 
Diversion: This is one major issue where people illegally use legal documents. For Example: selling your prescription medication. 
Doctor Shopping: A person or a patient visiting different doctors to get more drugs and prescriptions whose ultimate aim is to hinder the rules and policy of healthcare norms. 
Now, you may be wondering where you can find the tips to get rid of this issue. However, there is one single message that we want to share. People who are honest and innocent and not bothered by the outer world should understand that scammers are everywhere; they may be around you. Therefore, you should concentrate on three things: protect your healthcare insurance information, beware of FREE services, and check your explanation of benefits (EOB) regularly. 
Last Words
Here we are ending the one-end conversation with you. This blog spreads awareness of the types of fraud in the market and how you can overcome them. Reading about such scams can give you some time to know what is happening in the outside world. Because ultimately, you are the one who can help yourself. Stopping such crimes is one part of the story, but awareness is equally important. Hence, one should know that being unaware of such happenings is a more risky option here.