Read Time:
8 Minute, 34 Second
Conflict is a natural part of life. It can be beneficial when it's used as an opportunity to foster growth and team performance. As a leader, you have the power to use conflict in a positive way that will help your team reach its goals and objectives. In this article, You'll learn how leaders can use conflict as a tool for growth and team performance
Conflict management is an important skill for leaders to master because it helps create healthy teams and successful workplaces. Conflict resolution by design rather than default allows leaders to proactively address issues before they become detrimental to morale or productivity. Task-based conflicts are those that arise out of disagreements about how tasks should be completed or who should complete them; understanding the root cause of these types of conflicts is key to finding solutions that work for everyone involved.
These 10 tips will help leaders use conflict as a tool for team performance and growth
1. Understand the root cause of the conflict. Knowing why a disagreement is occurring can help you identify potential solutions that work for everyone involved.
2. Address conflicts swiftly and directly. Ignoring or avoiding difficult conversations can lead to bigger problems down the line, so it's important to address issues quickly and openly with your team members.
3. Listen actively and don't be afraid to ask questions if something isn't clear. Listening is an invaluable skill when it comes to resolving conflicts—it allows you to fully understand each person's point of view before taking action or making decisions about next steps.
4. Focus on solutions, not blame. Blaming others or assigning fault won't help resolve the conflict—instead, focus on finding a solution that works for everyone involved.
5. Encourage collaboration and compromise between team members. Conflict resolution is often about finding common ground and creating win-win scenarios for all parties involved in the disagreement.
6. Be open to feedback from your team members and use it as an opportunity to grow and learn from each other's perspectives.
7. Model respect when engaging with people during conflicts, both internally within your team and externally with external stakeholders or customers/clients if applicable. Respectful communication can go a long way in helping to resolve conflicts.
8. Consider using mediation or other conflict resolution techniques if the situation is especially complex or difficult to navigate on your own. There are many resources available that can help you find solutions and create a space for productive dialogue between team members.
9. Implement strategies after the conflict has been resolved to ensure it doesn't happen again in the future, such as establishing clear expectations for how tasks should be completed, setting up regular check-ins with team members, etc.
10. Take into account any changes caused by working remotely or in hybrid settings when resolving conflicts—for instance, make sure everyone involved feels heard even if they're not physically present during meetings or conversations about disagreements.
Structural/Organizational Factors that Lead to Conflicts
Structural/organizational factors that lead to conflicts include inadequate communication, unclear roles and responsibilities, lack of trust, power imbalances, limited resources, and competing goals. When these elements are not effectively managed, it can create a breeding ground for conflict. Poorly designed organizational structures can also contribute to conflict as there may be too many layers of management or the wrong people in the wrong positions leading to frustration and resentment.
Exploring the 10 Causes of Structural/Organizational Conflicts:
Poor Communication: Poor communication can lead to misunderstandings and disagreements, which can quickly escalate into conflict between individuals or teams.
Lack of Clear Roles & Responsibilities: When roles and responsibilities are not defined clearly, it leads to confusion about who is responsible for what tasks and ultimately results in conflicts.
Unclear Goals & Objectives: Without clear goals and objectives, there is no direction for the organization as whole or individual team members, resulting in misalignments that can cause conflict.
Power Imbalances: When some individuals have more power than others within an organization, it creates an environment where those with less power may feel unheard or disrespected leading to tension and conflict.
Poor Leadership: Poor leadership can lead to a lack of trust and respect, resulting in conflicts between team members or with management.
Unresolved Conflict: If conflict is not addressed and resolved quickly, it can fester and become worse over time leading to greater disruption within an organization.
Insufficient Resources: When resources are insufficient for the tasks at hand, it creates stress among employees which may result in disagreements or even full-blown conflicts.
Unfair Treatment: Treating some individuals unfairly can create resentment that leads to conflict between those affected by the unfairness as well as others who witness it happening.
Cultural Differences: When different cultures come together in an organization, misunderstandings can occur that lead to conflicts between individuals or teams.
Poor Conflict Resolution Strategies: If an organization does not have effective strategies in place for resolving conflicts quickly and efficiently, it can create a hostile environment where tensions remain high and conflict persists.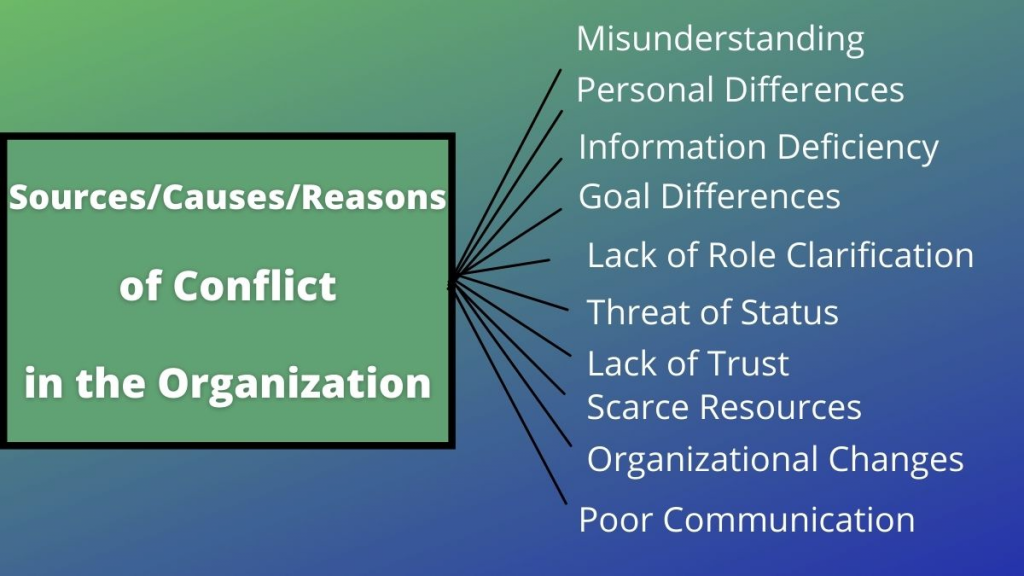 Additionally, an organization's culture can play a role in creating an environment where disagreement is encouraged or discouraged which affects how likely employees are to express their views openly without fear of repercussions. If left unaddressed, these structural/organizational issues often lead to serious conflicts within the workplace.
How to manage conflict in a team?
1. Encourage open communication and collaboration.
2. Set clear expectations, roles, and responsibilities for each team member.
3. Establish ground rules that all team members must adhere to (e.g., respect, and active listening).
4. Identify the sources of conflict in order to address underlying issues promptly and effectively.
5. Focus on problem-solving rather than blame or criticism when addressing conflicts within a team setting.
6. Use mediation techniques such as brainstorming or consensus building to resolve disagreements among teammates quickly and efficiently without taking sides or assigning fault where none exists..
7. Develop an action plan that outlines how the conflicting parties will work together going forward to avoid similar problems in the future.
8. Encourage team members to take responsibility for their actions and be held accountable for their contributions to resolving conflicts within the team.
9. Celebrate successes as a team to build trust, foster collaboration, and promote positive morale among teammates.
10. Create an environment of respect where everyone's ideas are valued regardless of hierarchy or seniority levels within the organization.
Why is conflict management important?
Conflict management is important because it helps to resolve issues in a productive and positive manner. It also prevents disagreements from escalating into more serious or damaging disputes, which can have long-term consequences on relationships, productivity, morale, and overall team performance. Conflict management techniques ensure that all parties involved are heard and respected while working towards a mutually acceptable solution. This encourages collaboration and trust among colleagues, enabling teams to make better decisions together.
Make Vision Clear can help you to identify and focus on the right strategies for your industry. We use a unique approach that combines data analysis, market research, and customer feedback to develop an actionable plan for growth. Our team of experts will provide insights into how best to target customers, optimize products or services, expand operations and increase profitability. Additionally, we offer customized solutions tailored specifically to your business needs so you can be sure that what we recommend is designed with your success in mind.
Closing Thoughts
The conclusion is that successful leaders understand how to use conflict as a tool for growth and team performance. They are able to establish clear expectations, create an environment where employees feel comfortable voicing their opinions, and encourage dialogue between members of the team. By doing this, they can foster collaboration and trust among team members which leads to improved problem-solving skills, better communication, higher morale, increased productivity, and ultimately greater success for the organization.
To make sure these goals are achieved successfully, leaders should take action by setting up rules for managing conflicts constructively; providing training on effective communication strategies; encouraging open dialogue; creating a culture of mutual respect in the workplace; addressing issues quickly before they become larger problems; rewarding positive behaviors; and recognizing individual contributions.
Why is conflict important for growth?
Conflict is important for growth because it provides an opportunity to learn, explore new ideas, develop empathy and understanding of others' perspectives, gain insight into different ways of thinking and behaving, practice problem solving skills, and increase resilience. Conflict can also help us grow by forcing us to confront our weaknesses or areas where we need improvement. Finally, conflict helps foster collaboration as individuals learn how to work together towards a common goal.
How is conflict an opportunity for growth?
Conflict can be an opportunity for growth because it helps individuals to understand different perspectives and viewpoints, develop empathy and communication skills, learn how to compromise, practice problem-solving techniques, and build resilience. Conflict also presents the chance for people to gain self-awareness by examining their own behavior in a conflict situation. By understanding what triggers them and why they react certain ways when faced with disagreement or tension, individuals can become better equipped to handle future conflicts.
Can conflict be used for improvement?
Yes, conflict can be used for improvement. Conflict can be a catalyst for change and a way to identify areas that need attention or improvement. It can help stimulate creativity and innovation, as well as foster collaboration among different stakeholders. Utilizing constructive methods of communication during times of conflict is essential in order to ensure the best outcome possible.
How can conflict lead to growth?
Conflict can lead to growth when it is used as an opportunity for individuals or groups to learn from their mistakes, develop new skills and strategies, and increase understanding of each other's perspectives. Conflict can also provide the impetus for creativity, innovation, and collaboration between those involved. When managed appropriately, conflict can help people expand their knowledge base and capabilities while fostering stronger relationships between parties.