Read Time:
3 Minute, 14 Second
Google is constantly updating its algorithms to combat link spam, and the Dec 2022 update was no exception. In this blog guide, we'll explore what Google has done to take action against link spam and how it affects your SEO strategy.
Google's December 2022 Link Spam Update
In short, Google is announcing that it will be rolling out a new update to combat link spam in December 2022. Google said that the update they are introducing in December 2022 link spam update will take around two weeks to be fully implemented. This update may cause changes in rankings as links deemed to be spam are removed and any credit they have provided is lost. The update will affect all languages.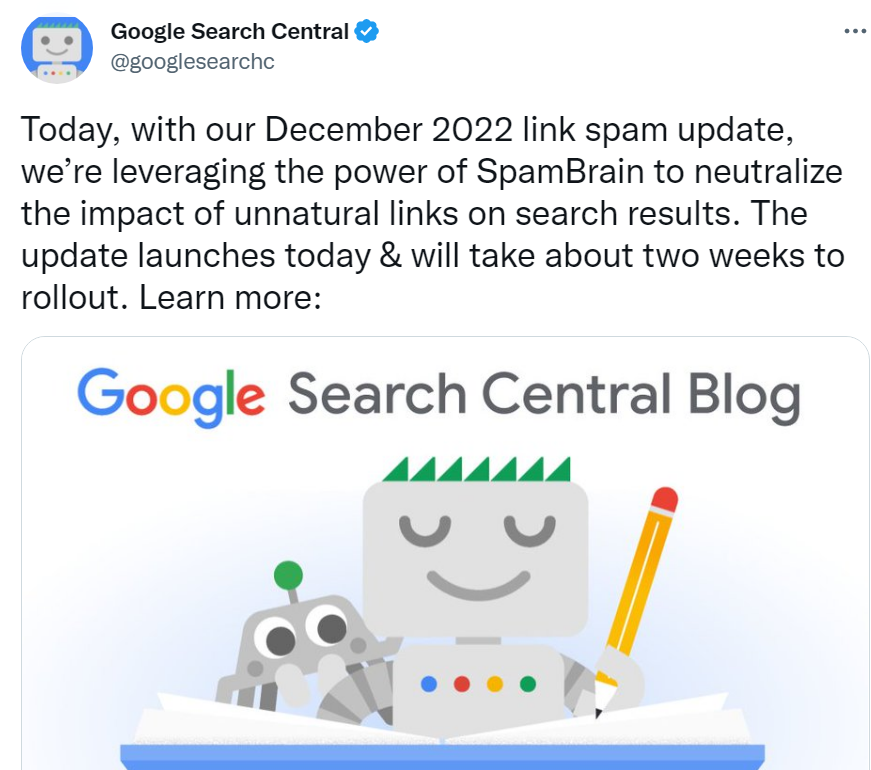 Google's Dec 2022 update is designed to target link spam and make sure that only the highest-quality websites are rewarded in its rankings. As part of this update, Google has implemented a penalty system for sites found to be engaging in link manipulation. This penalty system works by decreasing the ranking of websites caught using link spam tactics, making them less visible on search engine results pages. Additionally, Google has also started taking action against websites that have been found to be buying or selling links, as well as those linking out to low-quality sources.
As Google wrote in its previous updates on 2021 link spam, it is important to focus on creating quality content and building natural links. Google wants website owners to make sure they use the right kind of links. Creating high quality content and making a good user experience are more important than trying to manipulate links. Use tagged links when you are promoting your site and affiliate links when you are earning money from them.
Utilizing SpamBrain to Combat Link Spam
Link spam is a type of malicious activity that has been around for years. In recent times, it has become more popular due to the increasing popularity of SEO and link-building campaigns. Link spam involves creating illegitimate links to websites from other sites in order to artificially boost their rankings in search engine results pages (SERPs). This can be done by buying links from link farms or using automated tools such as comment spamming software.
SpamBrain was developed specifically with this problem in mind and works by monitoring outgoing links on websites. It looks at the quality of incoming traffic, sources of external links, and other indicators that could potentially signal potential link-buying activities or attempts to game SERP rankings through artificial means. If SpamBrain detects any suspicious activity, it will alert the website owner of the potential threat and recommend a course of action.
In addition to detecting link spam, SpamBrain can also detect other forms of malicious behavior such as phishing attempts or malicious code. It is designed to be constantly updated with new threats so that it can remain effective in fighting off these types of attacks.
Overall, SpamBrain is an effective ai system when combating link spam on websites. It helps identify sites that are engaging in link-buying activities and those attempting to boost their rankings through automated means artificially. By using this technology, website owners can rest assured knowing that their site is safe from potential harm caused by nefarious actors online.
Conclusion
Google's Dec 2022 update was designed specifically to target link spam and make sure that only the highest-quality websites are rewarded in its rankings. As such, it is essential that all webmasters adapt their SEO strategies accordingly if they want their websites to remain competitive on search engine results pages. By following Google's guidelines and avoiding any link manipulation tactics, you can ensure that your website remains in good standing with the search engine giant.