Read Time:
3 Minute, 28 Second
New ChatGPT App for Slack Helps Teams Work More Productively with AI-Powered Assistance
Salesforce and OpenAI have teamed up to create the ChatGPT app for Slack, a platform that integrates ChatGPT's AI technology to provide users with instant conversation summaries, research tools, and writing assistance. With this new app, millions of companies can work more efficiently by combining knowledge found in Slack with ChatGPT's intelligence.
Why is it important?
According to a survey, a majority of senior IT leaders believe that AI can help them to better serve their customers, make better use of data, and operate more efficiently.
This new app is designed to make that a reality, by combining the knowledge and information found in Slack with the intelligence of ChatGPT.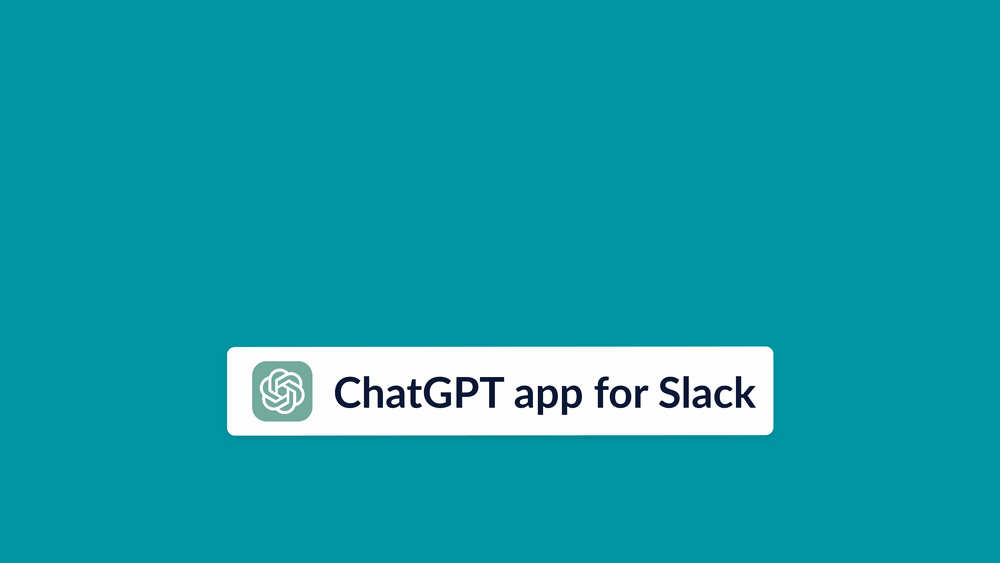 How does it work?
Currently, in beta, the ChatGPT app for Slack provides a conversational interface powered by OpenAI's large language models.
This allows users to get instant conversation summaries, research tools, and writing assistance. The app is designed to help users catch up quickly on conversations, find answers to questions, and draft messages more efficiently.
See also: Samsung Employees Accidentally Leak Confidential Data through ChatGPT AI
Key Features of the ChatGPT App for Slack:
Instant Conversation Summaries: AI-powered summaries help users catch up quickly on what's happening in channels and threads.
Research Tools: AI-powered research tools enable users to learn about any topic and build expertise quickly, without leaving Slack.
Writing Assistance: AI-powered writing assistance helps users to draft messages in seconds, so they can spend more time putting their plans into action.
What's Behind the Tech?
The app was built on top of Slack's trusted platform and will be available alongside more than 2,600 other integrations in the app ecosystem.
This ensures that customers have granular controls to safely manage third-party access of Slack data. Any data that the app has permission to access will not be used to train ChatGPT's language model.
"OpenAI has been a great Slack customer, and we're even more excited for them to be an amazing Slack partner. The ChatGPT app for Slack deeply integrates the power of OpenAI's cutting edge large language models into Slack's conversational interface. There couldn't be a more natural fit. This will give customers new superpowers by helping them tap the collective knowledge of their organization's channel archives. We're excited to partner with OpenAI to bring more generative AI powers directly into Slack to deliver productivity efficiencies for everyone." Statesment of Noah Desai Weiss, Chief Product Officer, Slack.
See also: Chatgpt and Its Implications for Customer Experience
OpenAI chose Slack as its productivity platform to accelerate employee productivity, connect directly with customers, and support the hyper-growth of the business.
As a longtime Slack customer, the OpenAI team has sent more than 5 million messages and has more than 170 Slack Connect channels to connect directly with their customers. They also have more than 70 integrated apps and rely on Huddles as part of their daily work to connect with each other and with customers.
The team leveraged the Slack platform's range of SDKs, frameworks, and development tools to build the ChatGPT app for Slack, ensuring that the app is secure and scalable from day one. They have been piloting the app to engage with their customers directly across sales, service, and engineering teams.
"I love Slack Connect so much. We were very early adopters, and, alongside Huddles, it's been the lifeblood of our customer communications. I think it's the coolest workspace communication advancement ever. Injecting our own technology into this product has supercharged our ability to connect with and delight our customers. Life without it with our customers is unimaginable." – Zack Kass, Head of GTM for OpenAI.
Final Thoughts
The ChatGPT app for Slack is an exciting development that combines the power of AI with the convenience of Slack. It helps teams to work more productively by providing them with instant access to information, research tools, and writing assistance. If you're looking to improve your team's productivity, you may want to give it a try.
Source: Introducing the ChatGPT App for Slack