Read Time:
4 Minute, 4 Second
What is meant by the 08-minute rule?
The 08-minute rule means that a provider must provide treatment for at least 08-minute. It helps the provider to measure the time for billing purposes. Physical therapists need to understand because it helps them to how they bill Medicare, and how much money they can take. It also helps the patient for his best care. Medicare has the 8 minute rule which means time-based CPT codes for different outpatient providers.
The payer uses these codes to identify different procedures and services. The time-based rule uses a 15-minute increment in a segment to billable units. If services are done by the provider between 08 to 22 minutes then Medicare be billed for one unit, 23 to 37 two units, 38 to 52 four units, and so on.
How does the time-based rule work?
When a patient visits his/her outpatient healthcare providers. The patient will show his Medicare card to the provider on every visit. They know to bill Medicare part B for the patient visit then they fill the claim accordingly and use specific CPT codes that apply to each service. In the time-based rule, physicians provide treatment for at least 08 minutes for reimbursement of the claim. Time-based units are divided by an increment of 15 minutes. There are different CPT codes for different time-based units.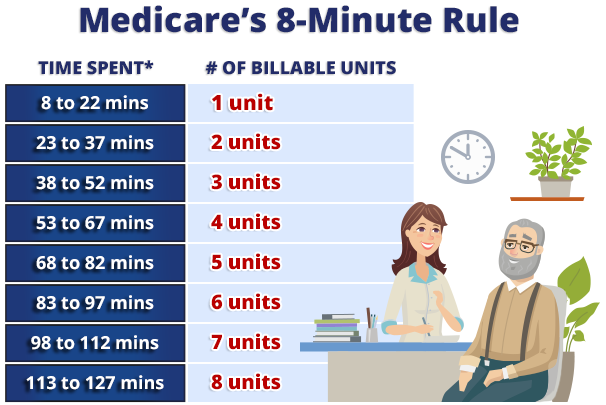 What is the difference between Time-based units and Service-based units?
Time-Based Units
It allows you to bill multiple units with 15 minutes increments.
Service-Based Units
You cannot bill more than one unit for this type of service, regardless of the time providers spent delivering treatment to the patient.
It is the most common question what insurance or payer follows the 08-minute rule in outpatient therapy?
Medicare insurance follows the 08-minute rule for outpatient therapy. The outpatient therapy services are provided to Medicare beneficiaries in the following rules.
Private practice.
Skilled Nursing Facilities.
Rehabilitation agencies.
Home health centers providing part B therapy.
Hospital outpatient departments.
The 08-minute rule also applies to insurance along with Medicare part B. The payers who billed according to the 08-minute rule are as follows:
Medicaid.
Other federal insurance.
Tricare (Services for Armed forces).
BCBS for federal employees.
Champus (veteran).
Worker's Compensation.
Medicare Advantage programs.
BCBS (Medicare advantage program)
Aetna (Medicare advantage program)
UHC (Medicare advantage program)
Humana (Medicare advantage program)
Wellcare (Medicare advantage program)
Bill according to the 08-minute rule, if any federal payer.
Any payer that follows the Medicare guidelines will use the Medicare 08-minute rule, it will also apply to private insurance.
What CPT codes are used in time-based units?
Time-based CPT codes allow you to bill in units with 15-minute increments. Providers use these codes for providing one-on-one services such as
Manual Therapy (97140).
Therapeutic exercise (97110).
Therapeutic activities (97530).
Neuro-muscular re-education (97112).
Electrical stimulation manual (97032).
Iontophoresis (97033).
Ultrasound (97035).
Gait training (97116).
Medical billing outsourcing for physical therapy?
The intense specialty of physical therapy is most important for patient care. The provider spent a lot of time on patient treatment. Most of the time provider does not have enough time to focus on medical billing and coding. Like other specialties, medical billing and coding are an important part of financial success in physical therapy services. There are many reasons for claim denial in physical therapy services. A physical therapy medical billing company have trained biller and coder. A medical billing company helps them to increase the revenue of their practice.
There are many benefits of medical billing outsourcing. Some of them are as follows.
Medical billing outsourcing allows providers to more focus on patient care.
The main purpose of medical billing company is to provide billing services. They are responsible for ensuring that your claims are correctly submitted to the correct payer on time. Their billing reduces the billing errors in the medical billing process.
A billing company charges a flat charge or percentage of reimbursement on each claim. It is less costly than the cost of medical billing staff, computer equipment, office space, furniture, etc.
One reason that makes medical billing difficult is keeping up with the changes in Medicare, Medicaid, and other payers. Medical billing follows the proper protocol required by each payer, it is a full-time job. Medical billing companies stay up-to-date about the requirements and regulations to ensure the correct submission of claims.
A medical billing company helps your practice improve cash flow. Cash flow is important for the success of your medical office. It reduces your burden and helps you to focus on the growth of your business. It boosts your productivity.