Read Time:
5 Minute, 51 Second
According to a case study published on Stratosjets, 82% of all travel bookings around the globe was made without human interaction in 2018 and it was estimated that nearly 700 million people will be booking hotels online in 2023. 
And, undoubtedly online bookings are increasing exponentially at a rapid pace and will be. With that being said, if your hotel is not visible to travelers online.
You're going to miss out on massive bookings that could generate huge revenue for your hotel's success.
Fret not, whether you're already marketing your hotel online or looking forward to it, this blog is for you.
Let's get started to learn the 7 marketing tips to run a successful hotel business.
7 Online Marketing Tips To Run & Grow Your Hotel Business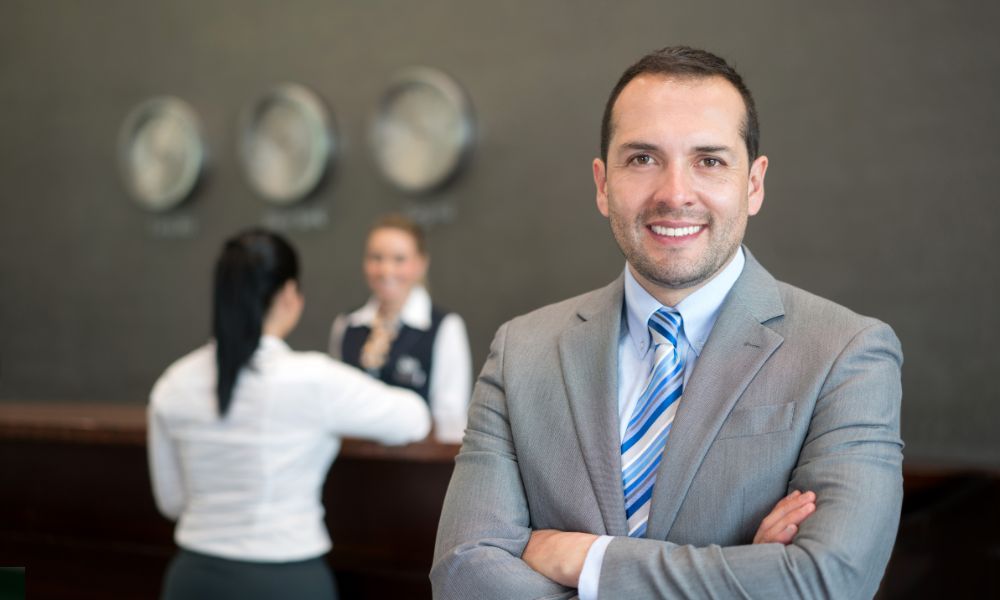 1. Take Advantage Of Technology
Leveraging technology the right way can get your hotel business far ahead of your hotel competitors in less time.
Your customers would love to have a 360-degree tour of hotel rooms, amenities, food preparation, and other tech facilities like room service apps, robotics, and other services of your hotel.
The smiling faces in the virtual tour make your guests fantasize about the great time they would have in your hotel.
I have just shared the quickest & easiest recipe to lure your customer.
Regardless of experience, one more thing matters a lot when it comes to online hotel bookings. Yeah, you guessed it right! It's the room pricing.
This is one of the key elements that can ruin your overall online marketing strategy.
Well, you don't have to squander your marketing budget without getting the bookings you anticipate. Because you can learn how to create a dynamic pricing strategy for hotels from this complete guide.
2. Collaborate With local Businesses & Promote
No one would book a hotel room to stay inside during their whole trip. Guests go out and explore.
Wouldn't that be great, if you could provide your guests discount coupons, vouchers, and free entries to the nearby attractions?
Guests would highly appreciate this and will share their experiences with their friends and family. Which can be the referring bookings.
You can even shoot the local attraction businesses you collaborated with and feature them on your website.
Or use it as a USP (Unique Selling Proposition) for your promotional ads to attract more travelers to your hotel.
3. Invest In Your Website SEO
Online traveling agencies and ads are great but don't underestimate the power of SEO for your website.
However, SEO is time-consuming and certainly not an easy job but if it's done right it'll flourish over time and help you get high-quality leads.
You can enrich your website with user-centric content, build relevant quality backlinks and promote your hotel through content marketing to build solid brand awareness.
In order to reap the benefits of SEO for your hotel websites, it's wise to maintain a good ratio of commercial and informative content on the website. Learn Google best practices for running successful ecommerce SEO.
See Also: Best Way to Execute a Programmatic SEO for Startups
4. Encourage Travelers For Direct Bookings
Most bookings are done by OTA platforms that take away massive commissions.
Personalized marketing allows you to offer travelers huge discounts and other rewards that encourage them to make direct bookings.
With this, you can't go wrong because you are saving more money by not giving commission to the OTA's platforms and who on earth would not like a massive discount?
5. Intensify Your Marketing Efforts During Peak Season
Events like new year, Christmas, Black Friday, and a few specific seasons have more potential to generate revenue for hotels than normal days.
Use your hotel's historical data and identify when your hotel rooms were filled like crazy. This will give you an idea of the peak seasons.
Once you identify the peak season don't just wait and wait to get bookings. Instead, save your budget and plan ahead for the golden season that can help you earn more than throughout the year.
Most guests plan trips before 2-3 months so you don't have to run the ads when the peak season strikes. Let the travelers know you through brand awareness campaigns.
6. Engage Your Customers Through Social Media
Social Media is one of the best plans to engage with your potential customers without them even knowing.
This marketing strategy will work out profoundly as long as the content is entertaining.
You can creatively promote your hotel rooms, amenities, food, and other customer experiences on social media.
Before you invest in Social media, it's important to find out which platform works best for you.
However, travelers mostly spend their time on Instagram, Facebook, Tiktok, Snapchat, and Youtube.
Social media marketing will help you to reach massive travelers by investing in social media ads.
The reason why social media is one of the best marketing tips to run a successful hotel business is because: You can start with as much budget as you have as many potential travelers to show your social media ad.
7. Influencer Marketing
Nothing can reap the trust in a customer's mind more than someone authoritative in the same field.
Like, people who love traveling follow experienced travelers, watch their videos, read their blogs, and often follow their advice.
And, this is why influencer marketing is whopping.
According to a study done by Influencermarketinghub the influencer marketing market grew from 1.7 billion dollars in 2016 to 9.7 billion dollars in 2022.
Moreover, it is expected to soar 13.8$ billion with steady growth in 2023.
Through influencer marketing, you will not be able to advertise your product to the highest potential customers but will be able to win their trust.
Most businesses make the rookie error by chasing the influencer with high followers.
It won't only be a matter of huge money charges but also the least conversion.
Instead, start reaching out to travel influencers that have decent followers and are happily willing to promote your hotel at reasonable charges.
This will allow you to experiment with different offers and discounts. When you're confident with something you can go for the top travel industry influencers.
Conclusion:
In this blog, we have made you acquainted with the top 7 marketing tips to run a successful hotel business.
Although it seems like the tip of the iceberg, these strategies have the competency to produce better results than other marketing efforts.
Make a list of these tips, and research deeply each of them, plan, implement and execute and get ready to see the steady growth of your hotel business.
Boost your business today with Make Vision Clear!