Read Time:
1 Minute, 42 Second
Google Sheets users will now have access to an innovative feature called "Help me organize," which is part of Workspace Labs' Duet AI offerings. This exciting addition was recently unveiled on Jun 22, 2023.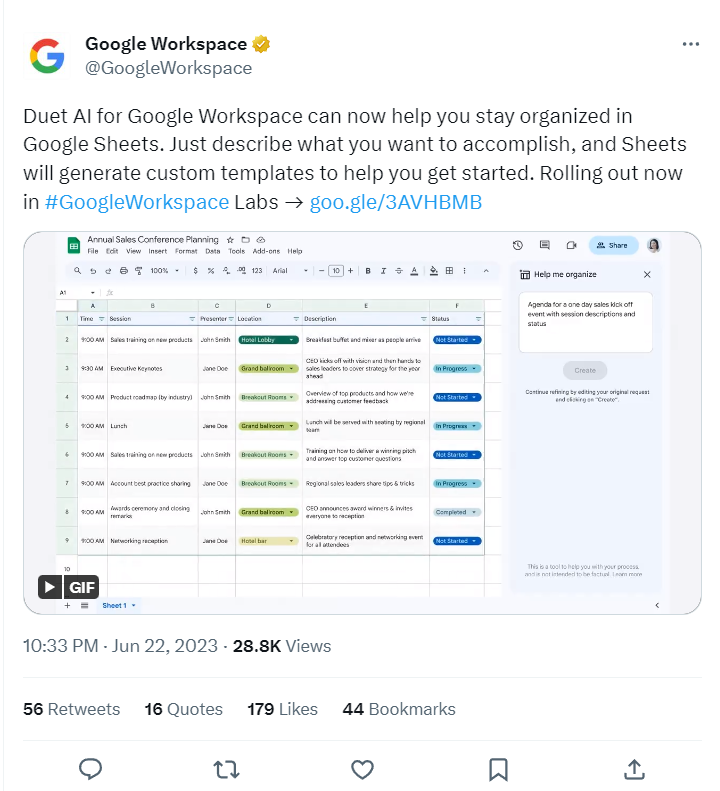 Leveraging the power of generative AI, Google has introduced a tool that not only suggests but also creates table templates for various purposes in Google Sheets. Whether it's a product roadmap, budget analysis, or event planning, users can now rely on AI-generated recommendations.
The "Help me organize" feature is conveniently accessible through a side panel, allowing users to input prompts and receive intelligent assistance for their spreadsheet needs. This intelligent assistant takes on the role of a helpful collaborator, proposing table structures and layouts that can be further customized and tailored to individual preferences.
The primary objective of this feature is to simplify the daunting task of tracking and organizing complex data, while also highlighting factors that may have been overlooked initially. For instance, users can request Google Sheets to create a comprehensive trip planner or a dynamic task tracker.
The gradual rollout of this highly anticipated feature has commenced, initially targeting trusted testers participating in Google's Workspace Labs program. The integration of AI into Google Sheets is a natural progression, considering the platform's widespread use for demanding data management tasks.
Google has been actively championing the utilization of generative AI within its Google Workspace, as demonstrated by the Duet AI initiative. This endeavor aims to foster creativity and enhance productivity across various applications. In line with this mission, Google is also in the process of introducing image generation capabilities using models like Imagen into Google Slides, following the initial announcement earlier this month.
These recent additions join the existing "Help me write" feature, which is currently available in Gmail and Google Docs, although limited to web usage and not yet accessible on mobile devices.
By incorporating AI-powered functionalities, Google continues to empower users with cutting-edge tools that streamline workflow and promote innovative problem-solving in the realm of productivity and collaboration.