Read Time:
31 Minute, 43 Second
For businesses to connect with their customers and remain relevant in the modern, digital era, having a strong online presence is essential.
Over the past ten years, most consumers have grown accustomed to using the internet to find what they want. This enables small businesses to have a successful online strategy to build their brand and flourish in the digital sphere.
Through various online channels, including websites, social media platforms, and search engine optimization, small businesses can successfully market their goods and services and flourish in the current business environment.
What Is Online Presence?
Online presence refers to the business's brand identity on the internet, which encompasses establishing and managing various digital channels such as websites, social media profiles, and online directory listings.
With Make Vision Clear's digital marketing expertise, businesses can effectively showcase their offerings to their global potential audience. Businesses can connect with their target audience by establishing a distinct online presence and executing their marketing strategies in the digital realm.
Why Do We Need a Strong Online Presence?
A successful and competitive online presence for businesses is essential for survival in the current digital era. It is a fantastic way to build your company's reputation among a global clientele.
A well-designed website reveals brand identity and social media platforms allow for personalized customer service and direct engagement. A strong online presence increases brand recognition, outreach, and awareness, which opens the door to more sales and revenue growth.
We create a reputable business organization by projecting the essential characteristics that distinguish businesses, such as the provision of high-quality goods and services, professionalism, and dependability.
The Role of Digital Presence in Today's Business Landscape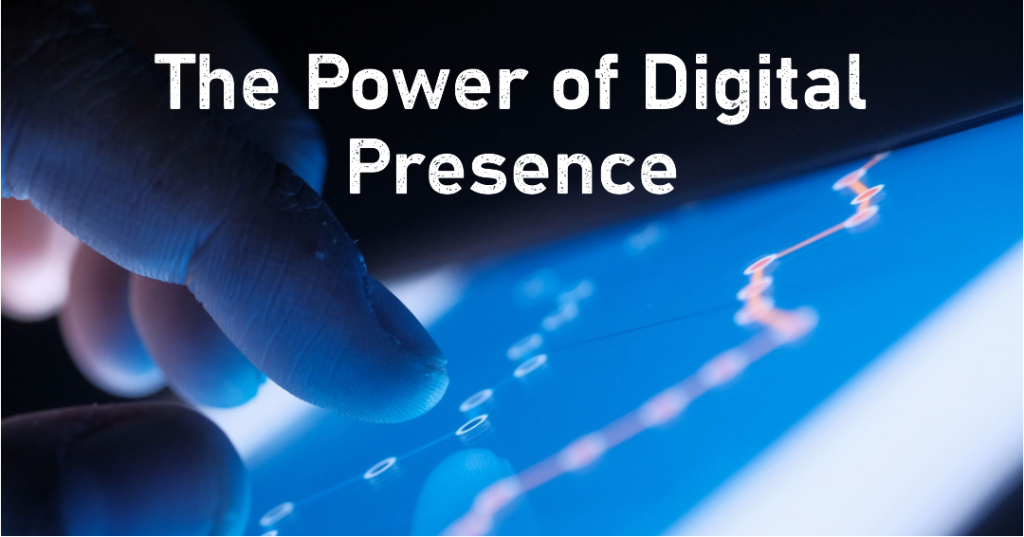 The success of a company in today's constantly changing business environment now depends on having a strong digital presence. To stay competitive in the age of the proliferation of digital devices and online communication channels, businesses must build a strong online presence.
A digital presence gives businesses the chance to connect with customers in real-time, boost website traffic, generate leads and sales, and foster long-lasting customer loyalty. A digital presence's effectiveness fosters credibility and improves brand recognition.
The Impact of Online Presence on Small Businesses
Small Business owners must prioritize nurturing a formidable Online Presence to expand their potential customer acquisition for long-term success.
The following are the impacts on small businesses of having an online presence:
Improves Visibility
A robust online presence is one of the most effective ways to increase a business's visibility and reach. The increased visibility leads to increased traffic on the website and generates potential leads and sales.
Increases Brand Awareness
An Online presence helps small businesses expand their reach beyond their local area, giving them access to a global audience. Through their online presence, businesses can reach potential customers all over the world.
Expanded Reach
Through planned marketing strategies, small businesses can expand their reach globally, which leads to increased revenue for the business.
Build Credibility
A strong online presence helps businesses establish credibility and trust by providing valuable, engaging content on social media and showcasing positive customer reviews. Businesses can demonstrate their expertise and build a brand reputation that inspires customers to choose their products and services over those of their competitors.
See also: Why SEO Matters For Small Business
How to Increase Your Online Presence With a Website
Nowadays, having an online presence is essential. The majority of customers are drawn in by a visually appealing website—a digital masterpiece that captivates and impresses. Make Vision Clear Digital Marketing Services creates websites that are user-friendly, instilling unwavering trust in your brand.
Customers are engaged and return for more because of the engaging, original, and compelling content. Using SEO techniques, the power of keywords, and meta tags to rank higher in search engines. Building a robust, user-friendly website helps shape a captivating online realm across social media and expand connections, embracing the limitless possibilities of this digital age. The steps required to establish your online presence are as follows:
Create a website
You must have a website to demonstrate your online presence; it should showcase your brand identity, value-based products, and services, as well as appealing visuals and fonts. We offer a wide range of Digital Marketing services, including creating company, firm, and association websites that you can use hassle-free to build your online presence.
Add Value to Your Service Sector
If you want to grow your company's brand through an online presence, you must be customer-focused and provide value to them. One simple way is to offer educational, free online content on the service page of your website, which will eventually boost your online presence. When you frequently post on your website, you become virtually active, allowing you to participate in the conversation.
Track down website visitors
Customers who search the internet for information about the products you sell will learn more about your company if you have excellent learning resources, such as content to advance their knowledge and understanding of a specific subject.
In order to follow up with customers via newsletter and make offers to them for your goods and services via emails and messages, you must entice them to contact you with their information.
Make your website SEO-friendly.
Search Engine Optimization (SEO) is a critical component of your business website for online visibility on search engines. You must be willing to have your website appear near the top of search results for the services you provide. SEO assists your website in ranking higher when users search for keywords related to your service. In addition to focusing on results that appear on the first page, you must optimize your website using SEO services.
See also: How to Rank Your Real Estate Website on Google's First Page
The Importance of a Professional, User-Friendly Website
A professional and user-friendly website brings success to businesses. It serves to establish credibility and satisfaction by encapsulating the essence of the brand for potential customers. A well-crafted website effectively communicates their values, objectives, and offerings with a polished appearance, cultivating trust and credibility among customers. A user-friendly website experience enhances user satisfaction, prolonging engagement.
Key Elements Every Small Business Website Should Have
The catalyst for the growth of businesses depends on an exquisite website. Website design and other vital components such as search engine optimization, seamless navigation, captivating visuals and images, and readily available quality information about products and services work as a mechanism for growth and customer expansion. Websites must have a mobile-friendly layout, ensuring an optimal experience across devices.
Having a professional website makes the difference between success and failure in today's digital age for small businesses. The following are the key aspects that need to be considered for a website:
Search Engine Optimization (SEO)
SEO is an important feature that increases your visibility on Google, Bing, and other channels. A company that sells clear phone cases wants its website to appear at the top of clear phone case search results.
When a user searches for a specific keyword related to your services, your website should appear near the top of the search engine results. If your site does not appear at the top, it will receive less traffic, sales, or leads.
SEO assists in optimizing your site so that it appears when internet customers search for products that your company offers. People are drawn to the results on the first page.
Content Creation of High Quality
A customer-centric company can make money. Customers' perceptions of your brand are based on the level of engagement you offer through various channels.
For this purpose, you should provide frequent, engaging content after brainstorming great topics that pique your interest and generating content that emotionally connects them with your brand.
Begin providing a multifaceted experience on your platform.
Customers nowadays prefer to have a multifaceted understanding in one place. They begin reaching out to platforms that provide them with understanding with a single click. Nowadays, websites use a variety of mediums to keep their visitors informed, such as phone calls, messages, emails, social media, and so on. Such businesses typically have high customer retention and a strong online presence.
SEO Basics for Your Website
Basic Search Engine Optimization (SEO) ascends search engine rankings, attracting higher website traffic and fostering lead generation and sales.
Search engine optimization for websites establishes brand identity and consumer trust, makes it easier to ensure website accessibility across devices, reduces bounce rates, and exemplifies engagement. A mobile-optimized website plays a pivotal role in a business's online presence and has a substantial impact on its success and expansion.  
Here are some suggestions for optimizing your website:
On-page SEO (also known as on-site SEO)
Page optimization is the process of improving your website's search engine rankings and attracting organic traffic. By publishing high-quality content, you can use optimized headlines, images, and HTML tags on your website.
Use predefined keywords throughout the content
The use of SEO-friendly keywords is very important to improve your website's position on search engines' top pages.
Off-page SEO (Off-site SEO)
These are all of the external actions you take to improve your rankings in search engine results pages (SERPs). There will be backlinks; the more links, the higher the quality. Among these are:
Natural Links
These are organic links that websites obtain by publishing content relevant to their audience on other websites. A natural link is an excellent way to boost your website's domain authority. People will gladly feature your content if it is valuable.
Manually constructed links
These are the links you get by putting effort and time into things like asking bloggers and other websites to feature your pages. Businesses display high-quality content that is worth featuring and sharing, along with links from unknown businesses. Linking services and backlinks aid in the development of external links to a website.
Self-made hyperlinks
Links typically have little impact on SEO; backlinks are used to show search engines that the links are important or relevant. You can display a self-created link in the blog or forum comments.
See also: Improve Your Dental Practice's: Patient Acquisition and Retention with NPI's Customized Marketing Strategy
How to Increase Your Online Presence With Social Media
Social media presence means the visibility a brand has on social media platforms and the connection it builds with the community. Social Media is being used to effectively increase online presence, which requires a strategic approach.
The stronger your presence, the more trust you build, and the more direct relationships you build beyond the marketing channel. The following are the things necessary to build an online presence on social media:
Embrace new trends.
In the dynamic world of digital marketing, social media reigns supreme as a powerful tool for customer acquisition, brand awareness, and lead generation.
To thrive in an ever-changing landscape, businesses should embrace social media trends that seamlessly integrate their social strategies.
It requires a willingness to explore new platforms and features while staying abreast of the latest trends, techniques, and best practices for the audience.
Embracing cutting-edge trends, including video content, influencer marketing, user-generated content, etc., can propel businesses ahead of their competitors and establish their best presence.
To stay adaptable and agile in social media endeavors, businesses must forge deep relationships with audiences and build brand loyalty for revenue growth.
Choosing the Right Social Media Platforms for Your Business
The art of selecting and personalizing ideal social media platforms is required for Your company's online presence. Each social media platform has its own distinct personality and audience, making it critical to tailor marketing strategies to a specific social media platform in order to cater to a business's target audience.
Invest in suitable platforms.
It is one of the crucial steps to choose and create social media platforms that resonate with your business and target audience. The right selection of platforms determines the effectiveness of outreach of your marketing messages. Investing in suitable platforms expands your chances of reaching broader audiences with the unique benefits of each network.
Social media platforms such as Snapchat, Instagram, LinkedIn, Twitter, Koo, etc. are more effective at reaching your target audience. Each time, through research and identification of the right content for a particular platform, aligning with your business niche and target audience increases the chances of engagement rates, boosts brand awareness, and builds a loyal following for the long-term success of your business.
Promote accounts on other platforms.
It is crucial for the promotion of your business account on social media platforms based on your target audience. Once identified, you must craft tailored messages to emphasize the benefits of following you while connecting with your audience on each social media platform.
You must provide compelling content, visuals, and language based on their needs and interests as a powerful tool. It maintains consistent branding on multiple platforms, ensuring a unified message.
Opt for the best practices of social media, such as utilizing paid promotions that can extend your reach beyond organic efforts. Promotion of accounts on other platforms demands a strategic approach to align with broader marketing objectives.
Share updated content relevant to your services.
As a professional service provider, it becomes increasingly important to consistently update your social media content with relevant and captivating posts for your followers and customers. Engaged content makes Customers want to follow you and establishes you as a trusted resource.
Additionally, start creating a content calendar that is of utmost importance, it enables you to strategically plan and ensures consistent popups to your followers and customers across all platforms relating to product or service insights with content that is engaging and able to gain comments and shares.
Utilize analytics for data-driven decisions.
Leveraging analytics tools is vital to making well-informed decisions that enhance social media performance. By analyzing the engagement rates, audience demographics, and effectiveness of content, you can uncover areas for improvement and consequently capitalize on opportunities.
Tracking web traffic reveals valuable insights into referral sources and user behavior that enable tailored content strategies and optimal landscape pages. Analytics tools empower effective decision-making, giving businesses a competitive edge in the dynamic digital landscape.
Balance promotion and value.
Striking a balance between self-promotion and providing value to the audience is of paramount importance for establishing a professional identity. Successful self-promotion entails the showcasing of unique qualities, abilities, and achievements to appeal to the target audience. Offering valuable content through articles, blogs, and social media platforms positions your platform as an expert among competitors.
Achieve a balance between the necessary understanding of what resonates with the audience and adapting accordingly to valuable content and insights to become adaptable and stay relevant in digital media content.
Optimize profiles for SEO.
Search Engine Optimization (SEO) is an indispensable component of online marketing, empowering businesses to secure higher search engine rankings. Profile optimization is a key technique for entrepreneurs and businesses to leverage and strengthen their online presence.
The best SEO principles should be implemented in your business profile to enhance the chances of attracting potential customers.
Start with meticulous keyword research and selection and align them with your business niche. It increases the likelihood of recognition on search engines like Google and Bing for the relevance of your business and increases ranking. Keywords form the bedrock of SEO, profoundly influencing the visibility of your online presence.
Additionally, keep your social media and business profiles mobile-friendly with the prevalent use of smartphones through internet access, having a mobile-friendly profile increases discoverability. The effortless use of your profiles on different electronic devices increases optimal useability and optimal reading, and a fast loading time overall increases the user experience.
See also: Improve Your User Experience with Search Quality Rating
Best Practices for Engaging with Your Audience on Social Media
The best way to develop an engaging social media strategy for your company is to keep followers engaged and interested in your business content. Businesses must develop a content calendar, and plan, and schedule relevant and engaging posts for their followers and target audience.
Businesses must respond to comments and messages as soon as possible in order to increase engagement rates and brand value.
Case Studies of Effective Social Media Use
A Social media case study serves the purpose of showing how specific business organizations and brands enhance various social media platforms for accomplishing business objectives. It entails the strategies and tactics involved in social media over a defined period of time.
We will look into the metrics of top businesses' past engagement and outcomes. Successful companies have effectively generated awareness, leading to customer acquisition, by advancing their own marketing objectives on social media.
McKinsey
Basic History of Business Growth
McKinsey is the Global Institute, an arm for business development that was founded in 1926. It basically uses digital platforms and teaches others how to leverage social media for leadership and customer management. At the very beginning, McKinsey recognized the use of social media channels and their impact on business growth.
Objective and Strategy opted by Mckinsey
McKinsey uses social media strategically, focusing on customer engagement, leadership, and raising competition as a strategy to grow its business. Its social media campaigns are being used as a trusted tool where it shares valuable information, research, and industry expertise. McKinsey manages constant customer engagement and interactions and presents their capabilities through their online presence.
Key Takeaways:
Leadership and Competition
McKinsey utilizes social media platforms to demonstrate compelling and informative content through the regular publishing of enriched social content, reports, and advertisements addressing key business challenges and the latest emerging trends. By doing so, it became a source of industry knowledge and expertise in various sectors.
Constant Client Interaction
McKinsey actively engages with clients and other businesses with their creativity, dialogue, responding comments, and constant participation on social media channels on various levels of discussion. Even McKinsey uses social channels as a platform for thought exchange and offers solutions and success stories, making deeper connections with others.
Measuring Analytics to adopt evolutionary changes:
McKinsey monitors social media conversations to increase their reach and refine their strategic approach to achieving their business goal.
One of the best ways to keep up with technological changes is to do analytics and constantly monitor changes in social approaches. McKinsey recognizes evolving and continuously changing trends and adapts strategies accordingly.
Even recently, it has started involving podcasts, live telecasting, or social channels to remain at the forefront of their engagement.
How to Improve Your Online Presence With Business Listings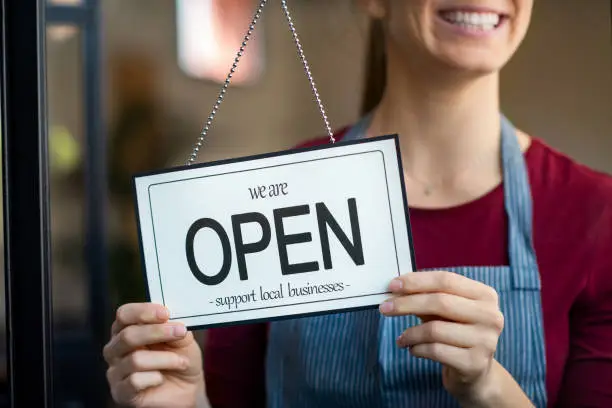 Businesses must opt for one of the most important steps in business listing in order to strengthen their online presence. The business listings investigate your company while making vital information about it public.
When listing, you must provide reliable, up-to-date information with accuracy, which will later be supplemented by captivating imagery showcasing your unrivaled products and services.
You should also consider using paid advertising options, such as promoted listings and ads, for exposure, along with the following tools for business listing:
Start using directories such as Google, Google Maps, Bing, Facebook, Nextdoor, Bing Places, etc. that enable businesses to easily engage with customers, obtain reviews, and build trust among them with the right information. There are several other online business directories. Constantly focus on listing on authoritative website listings and keep yourself updated with the latest changes in your business.
Businesses must provide additional information about their business through online presence, where they should provide detailed and accurate information along with visuals such as testimonials, videos, and photos. With this, keep monitoring the online reputation through data analytic tools, as even very little negative feedback can harm your business, so it becomes important to constantly stay vigilant and address every single issue that arises from time to time.
Google Business Profile is the right platform to kickstart your business presence, as it is one of the top search engines in the world. Starting to build your business presence with it is easy and widely accepted.
Nextdoor provides business listing directories with a demography-based focus where business owners conduct their businesses. It is one of the best tools to target your local customers and generate revenues from your business. 
Bing Places, is also providing one of the easiest ways to set up your business listing there. However, there are very few users of this search engine worldwide. 
Business listings make you stand out from competitors. Businesses must constantly push their satisfied customers to leave positive reviews to boost ranking in search engines.
See also: Understanding Google's Search Generative Experience (SGE): A User's Guide
Steps required for business Listing:
Find the relevant category of business listing directories based on your business category. A few common Business listing directories are Google, Facebook, Google Maps, Apple Maps, and Bing Places.
Open the directory in which you want to list your business.
Find the trade name of your business and add it to the directory.
Add the correct address of your business; add other locations if your business has multiple locations.
A local phone number and add the same with the duration/hours of operation of your business.
Add websites, email addresses, and physical street addresses.
Pay the required amount for the completion of your business listing.
Verify all the information you provided through the live verification process.
Action is done. Now, your business is good to live in the specific category of your business on relevant searches.
How to Increase Your Online Presence With Content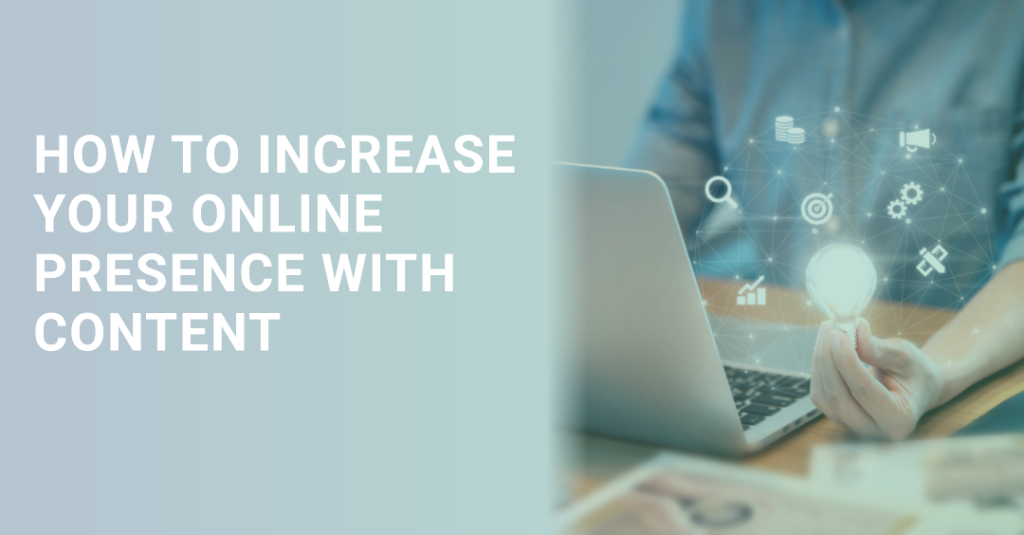 Crafting optimized content that is tailored to your business, demographics, and search engine optimization. By weaving together such exceptional content and other strategic optimization techniques, businesses can fortify their online presence. Read Advantages of Content Optimization for Online Marketing in 2023.
Why Content is King in the Digital World
In the digital world, content is considered the backbone of any digital marketing strategy, having an immense influence on user attraction, long-term engagement, and loyalty.
High-quality content serves as the connection between companies and their target audience, especially in building unwavering credibility.
Social media content emerged as the beacon that sets companies apart, captivating potential customers through search engine queries and social media.
Customers reach search engines to resolve their problems and queries, where companies can forge an unbreakable bond of trust with their insightful information while eliciting favor for their brand. It ensures increased reach with the brand's boundless growth.
Tips for Creating Engaging, SEO-Friendly Content
Digital marketing strategies rely on search engine-optimized content that brings success to a website. Website content should be both alluring and optimized, which is a challenge to balance both of them in a piece of content, but following the same paves the way to triumph.
Firstly, while creating SEO-friendly content, focus on the target audience, their needs, and interests. With this, create a content topic and subtopic research and jot down thorough keyword searches to unlock the resonance.
Secondly, Craft content according to the keywords, topics, and subtopics, keeping the search engine optimization of the content in mind. SEO-friendly content heightens the visibility of and ranking on search engine results pages. Make thorough research employing keywords and title tags, headlines, and the essence of the content-based meta description.
Thirdly, interlinking web pages with keywords streamlines navigation for the user. Infuse more and more information-based images, and infographics that can spark engagement and build content quality. Make Vision Clear shapes content that appeases search engines, brings website traffic, builds customer engagement, and ultimately accelerates business growth.
How to Develop a Content Marketing Strategy
Content Marketing Strategy entails creating content based on valuable, relevant, and engaging content consistently and disseminating it on social media and other platforms. Read also: 8 Content Marketing Metrics You Should Know About It.
The following are the key factors for developing an effective content marketing strategy:
Define your aims and objectives such as building brand awareness, and generating leads. You must have consistently increased conversations to build the same.
Know your audience, their needs, interests, and preferences. Picking customer pain points and aligning content formats accordingly is a must.
Systematically align the content calendar and schedule posts based on your business objective. Separate content categories incorporating these strategies make content marketing strategies strong for achieving marketing goals.
See also: How To Ace Your Next Content Audit
Utilizing Digital Marketing Services to Amplify Your Online Presence
Digital Marketing Services are of vital importance for businesses to expand their online presence. The tools to target a wider audience, such as SEO, PPC, Social Media, Email campaigns, and content marketing, amplify your business's online presence.
Moreover, digital marketing services provide measurable results through website analytics and consumer tracking, enabling businesses to optimize their strategies effectively.
Make Vision Clear offers Digital Marketing Services with a multitude of options to enhance your brand's visibility at a personalized level based on your target audience, freeing you up from additional burdensome responsibilities. Its strong Online presence strategies foster increased customer engagement for your business's sustainable growth.
How Digital Marketing Services Can Boost Your Online Presence
Digital marketing services are an essential component of businesses' efforts to establish a strong online presence and compete successfully in the rapidly expanding digital landscape. Digital marketing services provide a versatile set of tools for increasing brand awareness, driving traffic to websites, and increasing customer engagement.
Make Vision Clear specializes in compelling online marketing and developing profiles that are consistent with Your brand's goals and values, whether through social media management, search engine optimization, or campaign execution.
You can create online strategies, track user interactions over time, and receive invaluable data analytics reports with the help of our digital marketing strategy to help you achieve the best results possible.
The Importance of Digital Marketing
Nowadays, digital marketing is an essential aspect of business growth because, in addition to creating brand awareness to attract customers, you must know the hacks to keep them engaged with your insights about the products and services you offer.
The values and insights must be shared on social media channels on a regular basis in order to reach a larger audience and customers through a consistent online presence. A well-designed marketing plan raises brand awareness and visibility across relevant digital channels, resulting in more long-term revenue opportunities for your company.
Choosing the Right Digital Marketing Services for Your Business
A strong online presence for your business depends on selecting and putting into practice the ideal combination of digital marketing strategies to address the various aspects of your business. The right digital marketing services help establish connections with customers and the audience at large.
With the growth of customer engagement, Brands get paid advertisements through various tactics such as content marketing, email marketing, paid promotions, etc.
To have a professional digital marketing presence that will help you boost your online presence on the internet and ultimately drive growth for your business, you must consider the selection of a digital marketing agency based on the following criteria:
Things to consider to find the right digital marketing agency
Define Your business's goal
allocate Budget and find different agencies for digital marketing
Research on aspects of your business proposition
Let's deep dive into further details:
Things to consider to find the right Digital Marketing Agency
Businesses should consider several factors when finding the right Digital Marketing agency, such as their cost of services, the reputation of the agency, the rate of customer satisfaction, their work portfolio, and the options of packages for different services.
These are the things that help in finding the right digital marketing agency that helps in opting for tempting marketing services based on your strategies.
Find out your Business Goal
Before finding the right digital marketing services, Businesses should clarify their short and long-term goals for the digital channels for their online business presence.
For example, if your business requires a large customer base or e-commerce store lead generation, you must opt for an agency that is a great performer in lead generation through marketing.
However, if you need greater website traffic, SEO, customer engagement, large connectivity, and a virtual business presence, you must choose the best digital marketing agency that is best suited for making a virtual presence.
Allocate budget and find agencies for digital marketing
It is one of the crucial things to consider, you should expand your digital marketing services based on your allocation of budget for the same. So that you can pace up the same with increasing speed for the long run.
Split the allocated amount for different marketing services you are willing to opt for depending on your number of channels and business specificity. 
You might require another agency depending on the demographics where you want your presence, or choose the one that has worldwide reach.  There are different types of digital marketing agencies based on business specificity, such as:
Digital Agency
Promotion Agency
Monitoring and Improving Your Online Presence
In today's business world, having an online presence is crucial. Merely having social media accounts or updating your blog occasionally is not sufficient. Monitoring your online presence is increasingly important for reputation management and various other reasons.
Why should you monitor your online presence? Negativity can harm your business if you don't keep an eye on it. A negative review on platforms like Yelp or critical comments on social media can have a snowball effect.
It's essential to stay updated and engage with customers, employers, and potential business partners.
Monitoring your online presence is vital for maintaining a stellar reputation and averting potential crises. If you haven't started monitoring yet, now is the time to begin.
Google alerts:
Google Alerts is a powerful tool for reputation management. It notifies you whenever specific keywords related to your name, business, or competitors appear online. You can capitalize on positive mentions and address negative ones.
Social media platforms:
Monitoring social media is crucial as well. While platforms like Twitter, Facebook, and Instagram notify you when you're mentioned, it's important to search for your name and company to capture all conversations. Tools like Mention and Hootsuite can help monitor multiple platforms and provide valuable insights.
Activities on other platforms:
Review sites also require attention. Claiming your business page on Yelp allows you to respond to reviews and address concerns. However, it can be challenging to monitor all review sites alone. Tools like Reputology and Review Push can assist in managing reviews and responding promptly.
Don't overlook the importance of monitoring your Wikipedia page. Anyone can edit it, potentially damaging your reputation. Creating an account, adding the page to your watchlist, and setting up email alerts can help you stay informed.
Tools and Strategies for Tracking Your Online Presence
There are lots of benefits to monitoring brand discussions online. Gain valuable feedback and objective insights, manage your reputation, and understand how people engage with your brand. Manual monitoring is time-consuming. Luckily, there are efficient tools available.
The most important tools that can be used, such as Awario, Talkwalker alerts, Social Mention, Mention, etc. can be used to set up alerts, monitor, and manage your brand website. Let's take a look at a few of the best tools for tracking brand mentions:
Awario: It can be used to track brand activity on social media and websites. Receive real-time notifications, respond quickly, and assess the influence of commenters. Awario offers a 14-day free trial as well as affordable payment plans.
Social Mention: Gather data from social networks and provide visual insights on brand discussion, strength, sentiment, passion, and reach. It's a free tool that doesn't require registration.
Mention: Track brand mentions on various social media platforms, set up alerts, respond within the app, and generate reports. To assess the influence of a commenter, use influencer scores. Mention provides a free trial as well as pricing based on usage.
How to Use Feedback and Analytics to Improve Your Online Presence
Feedback and analytics assist you in evaluating performance, identifying opportunities, and optimizing your online presence. Feedback and data are analyzed to better understand how users interact with the website. It aids in the measurement of customer performance, the identification of opportunities, and the enhancement of online visibility. The steps required to be performed for the execution of the same are:
Choose the right Analytics tools
The right Analytics tools are used to optimize the business's online presence. These tools provide insights about key performance indicators and provide data-driven insights that enhance digital marketing strategies and ultimately help increase revenue. In the market, there are various analytics tools available, we must evaluate them based on which one best aligns with our business objectives and requirements.
Firstly, the essential thing is to specify metrics of your business that need constant tracking. There are different analytics tools available that offer varying types of data, such as Google Analytics, which offers comprehensive data on website performance and user behavior.
Another tool, Hootsuite, provides Social media analytics tools that are based on user engagement, reach, and growth in followers. It is user-friendly and intuitive, and no matter what the level of your technical expertise is, you can ensure, comprehend, and utilize it fully based on its technical insights. Additionally, it provides a customization option, which is valuable and enables you to track specific metrics and data according to your needs.
Another one is Adobe Analytics, which makes informed choices based on your choices regarding vital information you seek to optimize your online presence. It integrates seamlessly with your latest upgraded technologies as well as the existing ones. It provides periodic consolidated data, simplifying analysis and furthering insight generation. It facilitates users in making collaborative and informed decisions.
Analytics of Data
After gathering your data, you must analyze and interpret it in order to understand what it means for your website. To investigate performance and areas for improvement, look for patterns and compare them to standards and competitors.
Future-Proofing Your Online Presence
The digital world and the website platforms involved are so variable that making predictions becomes extremely difficult. The strategies we use on a daily basis will be rendered obsolete in the blink of an eye.
As a result, every time we interact with a customer, we must adopt a new methodology. There is no definitive standard for the best website for businesses, and your online presence will always need to evolve.
Websites must always be adaptable to new technological and standard changes in order to stay current and truly future-proof.
How to Make Your Online Presence Future-Proof
There are several factors to consider when ensuring that the website is future-proof:
Use the most appropriate platform:
New functionality can be integrated into the website as an external application programming interface (API) into the functionality available on the website platform. A high-quality website platform acts as the website's integration point. These are the locations where new functionality can be easily added.
Choosing the best web hosting services:
The best hosting services allow you to test designs and plugins on your website. Choose hosting services where You can test designs and plugins in your own way. These factors contribute to the website's long-term viability.
Website creation mechanisms:
There are a variety of mechanisms available for website development. The majority of developers employ a simple and effective system. The most visible way is to establish your online presence on a widely used framework, which increases your chances of remaining relevant in the future. LESS CSS- LESS and Twitter Bootstrap are highly innovative and provide the simplest ways to create websites and stay up-to-date in general.
Have a changeable website function:
When creating a website, the option of future-proofing should be considered. This process of making a website future editable takes more time, but it aids in keeping the website up to date and saves money in the long run. There are numerous minor changes that can be made by the website owner with the assistance of a simple CMS that allows you to make changes yourself.
Keeping Up with Digital Trends
Businesses must embrace the all-time evolving technology that leads to opportunities. The significance of staying updated with the latest technological trends is:
Accelerate revenue growth
Innovative digital trends are a key catalyst for growth as they reshape our work and lifestyle. Collaborative communication through digital platforms has revolutionized every facet of our lives. Businesses unlock their revenue-generating opportunities with the vitality of digital marketing.
Speed up business growth
For businesses to keep up their pace in the digitally competitive market, it becomes necessary to keep up with the speed of technological changes and evolving trends. Disruption of technological trends should be their imperative strategy for keeping a finger on the pulse of digital technological changes for long-term viability.
Creating captivating marketing campaigns
If businesses are updated with technological trends, it becomes easy to create captivating marketing campaigns. Such businesses know everything about growth in the technologies that imply their brands and keep their consumers interested in their favor.
Conclusion
The growth of a business depends on numerous factors that need careful consideration by every business owner. The important thing is staying updated on digital marketing trends for the growth of revenue and expanding their business operations.
Make Vision Clear offers several categories of digital marketing services, which every business owner must know before selecting the most suitable one for their business. To remain competitive in the market, it becomes fundamental for business owners to adopt innovative strategies.
Connect with our Expert Digital marketing team to learn more about the right category of service for your business's needs.