Read Time:
4 Minute, 34 Second
The easiest method to stand out from the crowd, take your business to the next level, and become a market brand. Without taking up a lot of your time. With affiliate marketing, you can sell your product or service without putting in much effort.
What Is Affiliate Marketing?
An affiliate marketing is a way to pay commissions for completed sales through a performance-based marketing channel. Since you only pay commissions when you make sales, it is often one of the most cost-effective ways to generate new Customers.
Your company can choose to run and manage an affiliate program through software or opt to join an affiliate network that has thousands of affiliates ready to sell for you.
If you would like to join an affiliate program, we recommend signing up with a provider. If you have a larger business check out LinkShare.
They are a bit more expensive and have more options for you to choose from. If you have a smaller business check out Shareasale.
You receive an online platform for affiliate approval, managing advertisements, and tracking payments. Additionally, you have access to a network of motivated affiliates who are already selling for other types of merchants. Most importantly, they'll disburse the payments to the affiliates that gave you customers. This gets rid of a huge headache for you.
In some cases, you'll find your affiliates buying keywords in the search engines and getting a better placement than you! Should you care? I say no way! Let them get you a customer, pay them, then you've got two happy customers!
The success of affiliate programs and search engines doesn't happen overnight. You have to put in the effort. Your affiliates need to be treated like an extension of your sales team, no matter what you sell. If you put the time into it, you'll have a better chance at reaping the rewards.
Read Also: Drive 3.5x More Conversions with B2B Marketing
Affiliate Marketing Opportunities
With online shopping being a great part of the market's revenue, affiliate marketing offers new opportunities for generating income. You can sell products locally or internationally, or you can choose to promote a new business that wants to attain new customers. Apart from this, the products and services you can promote are endless, giving you the opportunity to expand your marketing audience and earn more through affiliate marketing promotions.
How Does Affiliate Marketing Work In A Nutshell?
It is really quite simple to do affiliate marketing on a small budget. Here are six easy steps:
Affiliates and businesses establish relationships either directly or through a third party (advertising networks).
An Affiliate shares the product and service to their network of choice (typically a link or a coupon).
Potential customer engages with the link.
Customer lands on the business landing page
The customer makes a purchase.
A commission is paid to the affiliate marketer for every sale made by the business.
Affiliate Marketing Benefits your business
Affiliate marketing can increase your website traffic, boost brand awareness, enhance social proof, expand your reach, and yield a higher ROI. A successful affiliate program begins with determining your goals, studying your competitors, deciding your commission structure, choosing your network, and tracking the data you collect.
How An Affiliate Can Grow Your Business
A great online marketer will be able to take advantage of many sources of traffic within their network to boost your company's sales.
Conversion rates are higher when promoting products through a network where trust has built up for a long time. Building new funnels and trust with new customers only through online advertising can take a lot more brand awareness to convert finally. Word of mouth is a powerful tool to utilize.
An affiliate can promote your products and services through their networks, increasing conversion rates as their network will trust the marketer more than indirect online advertising models.
Examples of ways how an affiliate can grow your online business:
Leveraging social media presence (social media marketing)
Blogging with the power of search engine optimization and content marketing
Search Engine Marketing
Paid online advertising (Facebook, Pinterest, Youtube)
Email Marketing
Leveraging professional and personal networks
For example, let's look at a marketer who has a substantial following on a niche blog, and you have given the right incentives, and your products are perfect for the said niche.
Now the marketer can utilize their following and the trust they've built to promote your products to their niche audience carefully. The niche audience will react better to this approach, and converting them will be easier for you.
By letting an affiliate promote your company, you've broadened your audience, and the best part is you also gained reputation and trust within the new audience.
Read Also: 2023 SEO Trend Predictions
Success From Affiliate Marketing
Getting more visibility on search engines requires inbound links. Affiliate links from highly specialized and trusted sources can increase your search engine visibility.
The relationship between you and the marketer will grow as conversions rise, and you will both benefit, so you can expand the business together.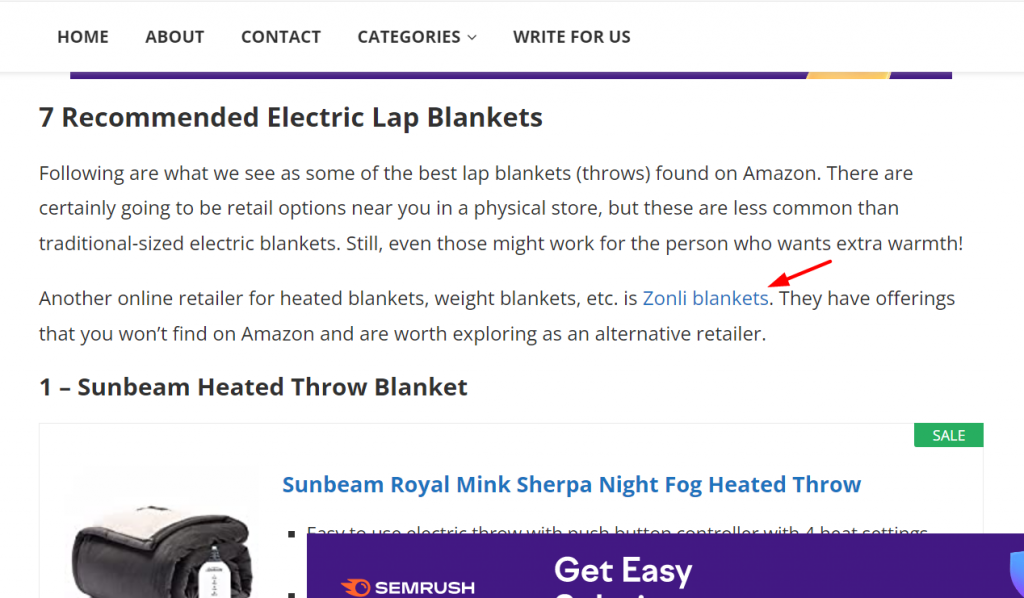 Time Frame for Growth
As we discussed, affiliate marketing is a performance-based strategy. It depends on how aggressively we process. Generally, It'll take 4 weeks to get featured on the authority sites. Make Vision Clear can help you to grow as brand with the strongest appearance on the google with their affiliate strategy.